ACARBOSE (AS NEEDED)
---
Block starchy carbs to help reduce post-meal time glucose spikes & maintain healthier weight. Take as needed with carb-heavy meals.
View Pricing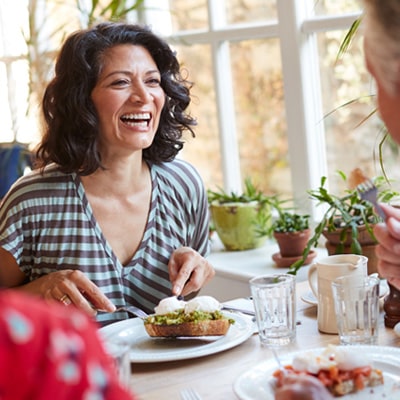 ACARBOSE BENEFITS
Blocks Starchy Carbs
Slows digestion of starchy carbs to help control blood sugar levels
Helps prevent post-mealtime glucose spikes
Supports healthier long-term weight
Reduces risk of cardiovascular events
Taken as needed with carb-heavy meals
ACARBOSE
Background & History
Most commonly used & studied alpha-glucosidase inhibitor
Prevents the breakdown of starch into sugar in the small intestine to reduce blood sugar spikes
Helps to decrease glycemic index of certain carb-rich foods, such as rice, wheat, corn & potatoes
Lower glycemic indexes may help to prevent diabetes, heart disease & obesity
FDA approved to treat type 2 diabetes since 1999 (Acarbose for non-diabetics)
ACARBOSE AT WORK
Reduce Glucose Spikes
Acarbose works to reduce spikes in blood sugar following a carb-heavy meal & lessen the resulting sugar crash. See it in action on the adjacent chart with real data from an AgelessRx pilot study patient after consuming a bagel.
Ready to Get Started?
Start Your Free Online Visit Now.
$25 / month
billed $75 quarterly | free shipping
Blocks starchy carbs
Contains 25mg tablets (2 per packet)
Supplies 24 uses per quarter
Convenient tear-away packets
Ships quarterly
Buy Now
You will be automatically billed & sent refills based on your plan
You can pause or cancel at any time before your next shipment
* Prescription products require an online evaluation with a licensed medical professional who will determine if a prescription is appropriate. See below for important safety information. Benefits outlined on AgelessRx.com are based on 3rd party studies. Medication is offered as a subscription service which you can cancel at any time. Actual product packaging may appear differently than shown.
How do I take Acarbose?
Take 1-2 tablets with the first bite of a carb heavy meal, such as pizza or pasta, as needed. Tablets can be swallowed with a drink of water or chewed with your first mouthful of food. Do not take more than prescribed.
---
How often can I take Acarbose?
You can take Acarbose up to 8 times per month, at your discretion, when you consume a carb heavy meal. Each Acarbose subscription supplies up to 24 uses per quarter.
---
How can I measure the effectiveness of Acarbose?
A Continuous Glucose Monitor (CGM) is one of the most convenient ways to track your progress. You can compare sugar spikes after eating starchy carbs (with and without Acarbose!) to visibly see the impact Acarbose has on preventing spikes.
See all FAQs
IMPORTANT SAFETY INFORMATION &
COMMON SIDE EFFECTS
---
For Acarbose to work properly, it must be taken at the beginning of your carb-heavy meal. Do not consume excessive amounts of alcohol while taking Acarbose.
Most Common Acarbose Side Effects
Flatulence
Abdominal or stomach pain
Bloated feeling
Diarrhea
For a full list of possible side effects, click here.
Other Important Safety Information
Consult with a healthcare professional prior to starting Acarbose if any of the following apply to you:
You currently take diabetes drugs, which, when taken together, can lead to your sugar level getting too low, causing hypoglycemia
You currently take diuretics, which, when taken together, can lead to your sugar level getting too high, causing hyperglycemia
You currently have or have had a history of an eating disorder
You currently take blood pressure drugs (called beta-blockers), which, when taken together, can lead to your sugar level getting too high, causing hyperglycemia
You currently take hormonal medications such as estrogens and oral contraceptives
The above information is only a summary. For a full list, or to read more important safety information, click here.
​Note: The above statements have not been evaluated by the Food and Drug Administration. This product is not intended to diagnose, treat, cure, or prevent any disease.