LDN
---
Unlike other treatments, LDN works with your immune system—not against it—empowering your body to create its own therapeutic effects.
Start Online Visit
LOW DOSE NALTREXONE BENEFITS
Do More, Age Less
Modulates the immune system
Increases endorphin levels up to 3x
Lowers markers of inflammation in the body
May reduce fatigue
Clinical evidence in reducing chronic pain
Encourages weight loss
Low Dose Naltrexone has not been approved by the FDA for these uses, but there are multiple studies that have shown these benefits.
See the Longevity Science
LOW DOSE NALTREXONE – LDN
Background & History
Prescribed for 40+ years with outstanding safety record
FDA approved to treat opiate dependencies & obesity
Dosages below 10mg/day are considered "Low Dose Naltrexone" (LDN)—4.5mg/day is the most common
Exhibits novel & paradoxical effects for a variety of conditions
Used to treat autoimmune diseases & viral infections since 1985
Read more on our LDN Blog or What is LDN?
What Our LDN Users
Are Saying
---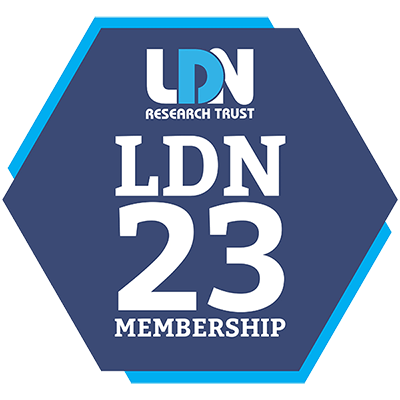 Your individual results might differ from the above testimonials
Ready to Get Started?
Start Your Free Online Visit Now.
$45 / month
billed monthly | free shipping
1-month subscription / 30 daily doses

Capsule form

4.5mg daily dose or as prescribed
Buy Now
Best deal
$35 / month
billed $105 quarterly | free shipping
3-month subscription / 90 daily doses

Capsule form

4.5mg daily dose or as prescribed
CODE LDN20: $20 off first quarter & FREE medical evaluation
Buy Now
Doctor may recommend
a different dose during medical intake process
You can request daily dose adjustments between refills
You will be automatically billed & sent refills based on your plan
You can pause or cancel at any time before your next shipment
* Prescription products require an online evaluation with a licensed medical professional who will determine if a prescription is appropriate. See below for important safety information. Benefits outlined on AgelessRx.com are based on 3rd party studies. Medication is offered as a subscription service which you can cancel at any time. Actual product packaging may appear differently than shown.
How often do I take Low Dose Naltrexone – LDN?
You will take LDN daily at bedtime (between 9pm and 2am). To start, you will take 1 capsule (1.5mg) and, over time, will slowly ramp up to the prescribed dose (4.5mg is the most common).
---
How can I monitor my response to LDN?
In the short term, patients report an improvement or reduction of symptoms related to inflammation and rampant oxidative stress, such as joint pain, back pain, fatigue, weight gain, and more.
---
What form of LDN will I receive?
AgelessRx provides 1.5mg and 4.5mg in capsule form with sucrose as the standard filler.
If you are taking LDN for the first time, you will begin at 1.5mg per day and slowly work up to the prescribed dose (commonly 4.5mg) over a 20-day period.
See all FAQs
IMPORTANT SAFETY INFORMATION &
COMMON SIDE EFFECTS
---
During the first three to five days of taking LDN, you may experience mild to moderate levels of the below side effects. Side effects typically diminish on their own by day five. To reduce the risk of side effects, start with a 1 capsule (1.5mg) for the first two weeks with a gradual increase to the 4.5mg dose.
If you are on thyroid medication, you may need to monitor your thyroid levels more closely as you start LDN. If you develop symptoms of hyperthyroidism while taking LDN, such as heart racing, increased anxiety, restlessness, or trouble sleeping, please stop LDN and talk to your doctor who prescribes your thyroid medication.
Note: Please stop taking any dosage of Naltrexone a minimum of 48-hours before any surgical procedure or medical diagnostic requiring sedation, such as surgery or a colonoscopy. If you are unsure, please ask your doctor ordering the test or procedure. Additionally, Naltrexone cannot be taken in conjunction with opioids/painkillers. If you need to stop taking Naltrexone for a surgery, and accompanying pain killers are prescribed, you may resume LDN only 48-hours after you take your last painkiller.
Most Common LDN Side Effects
Vivid dreams
Mild anxiety
Insomnia
Headache
​For a full list of possible side effects, click here.
​Note: The above statements have not been evaluated by the Food and Drug Administration. This product is not intended to diagnose, treat, cure, or prevent any disease.